We Hear You is a start-up company I co-founded with the help of very talented and like-minded individuals.
We Hear You is a multi-faceted startup company that is finding new, innovative solutions to problems that have impacted many individuals for far too long.
Currently, We Hear You has developed and is continuing to refine both an American Sign Language Translator, as well as a device called Push in order to assist people with hearing and mobility exceptionalities.
We Hear You was awarded the
Winner of the Social Impact Challenge
at Bradley University in April of 2020, as well as
First place in The Big Idea Competition
at Bradley University in November of 2020. 
We Hear You
®
ASL Translator
We Hear You is a streamlined communication tool that simulates conversation and helps bridge the gap to break the communication barrier between those who use ASL and those who do not.
We Hear You is a software that translates American Sign Language into speech and speech back to American Sign language in real-time. 
The software is compatible on any device with a camera.
The goal of this software is not to replace traditional interpreters, but as an option available to places that do not require ADA compliance for translators such as coffee shops, grocery stores, etc.
The software has a 99% accuracy with ASL fingerspelling, and 97% accuracy for the full gestures we currently have in.
Using a coffee shop as a sample first location, we are starting with related words and achieving 2 way communication.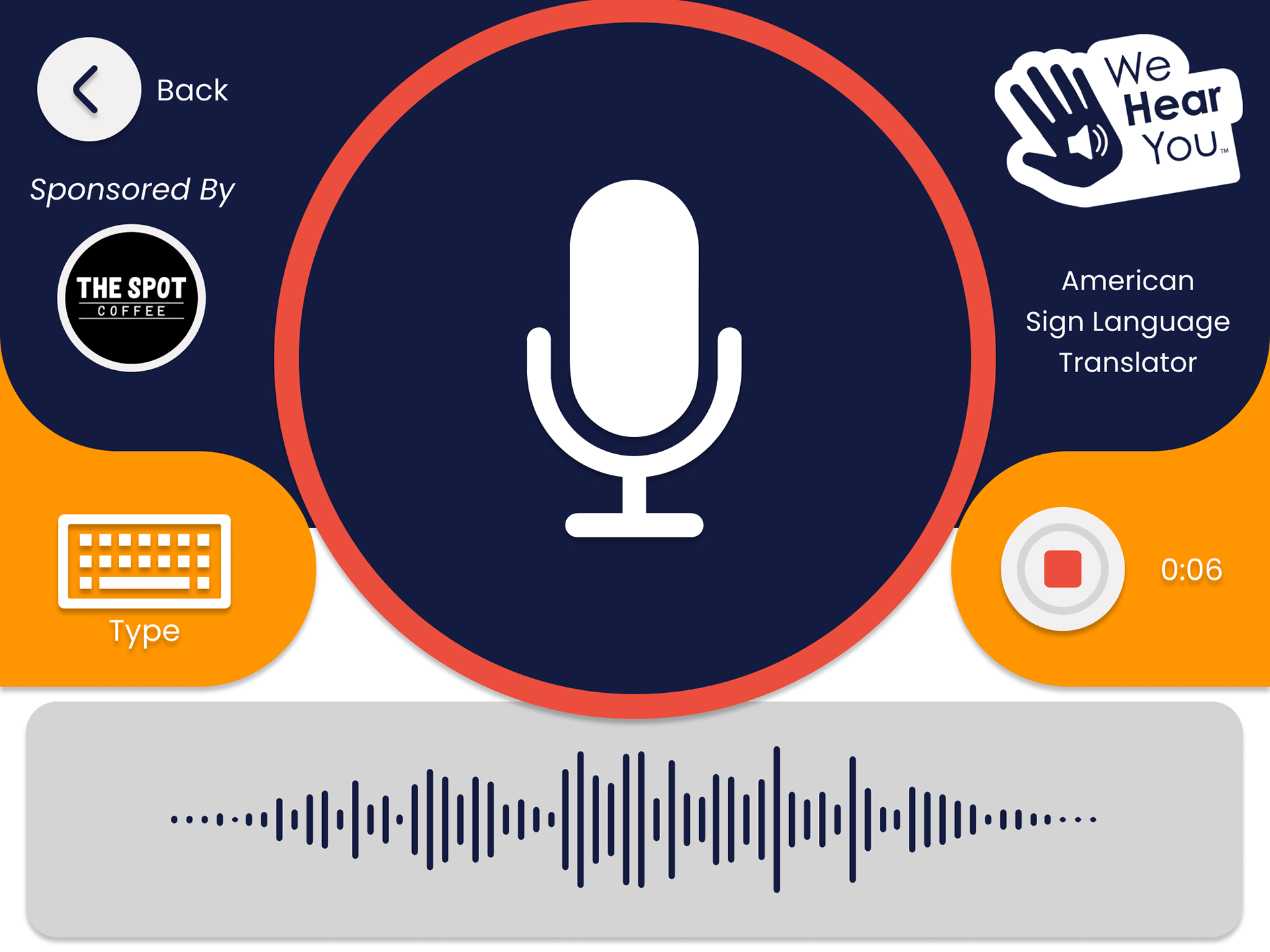 Project Role

:

 Chief Design Officer
Team Size:

 7 Total | 3 Managers | 3 developers | 1 Interpreter
Date:

September 2019 - Present
Platform: 
Tablet | Mobile
Engine & Tools: 
Adobe Creative Suite | Figma | Python | C++ | Slack | Andriod studio |
​​​​​​​UI & UX Design of Application Interface and functionality

Assisted in design use of logo for company branding
Recorded & edited promotional / demo videos
Assisted in early stages of development with hand tracking and translation programming